| | | |
| --- | --- | --- |
| adidas Men's Spring/Summer adizero Polo | Price: | |
Conquer the court with style in this adidas Men's Spring/Summer adizero Polo. The mesh insets offer optimum ventilation, and the ForMotion design promotes an enhanced fit. This lightweight polo features a Mandarin collar with contrast trimming and three-button placket, mesh insets at underarms and sides, sublimated graphic on front, printed 3-Stripes on sleeves and a heat transfer adidas logo on left chest.

Ventilated ClimaCool technology keeps you cool and comfortable in even the warmest conditions by actively expelling heat and sweat away from your body.
ForMotion follows every curve of the athlete's body for a better fit and greater comfort while in motion.
Content: 100% Polyester jacquard
Colors:

High Energy / Electricity
White / High Energy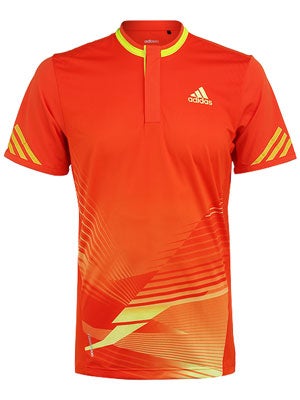 Rollover product image for a larger view.
Other items in adidas Sale Apparel

adidas Men's Fall/Winter Basic Down Vest
SRP 105,00 €
Now 50,00 €

adidas Men's Essential Logo Hoody
SRP 58,00 €
Now 39,50 €

adidas Men's Fall/Winter Response Fleece Jacket
SRP 60,00 €
Now 41,49 €

adidas Men's FW Essential Logo T-Shirt
SRP 20,00 €
Now 12,49 €

adidas Men's Basic Sequentials Short
SRP 30,00 €
Now 20,50 €

adidas Men's FW adizero Perf T-Shirt White
SRP 25,01 €
Now 15,51 €

adidas Men's Essential Logo T-Shirt
SRP 20,00 €
Now 13,51 €

adidas Men's Fall/Winter Response Theme Polo
SRP 42,00 €
Now 19,50 €

adidas Men's Fall/Winter Sequentials Jacket
SRP 80,00 €
Now 36,50 €

adidas Men's Fall/Winter adipure Short
SRP 50,00 €
Now 22,50 €

adidas Men's Fall/Winter adipure Polo
SRP 55,00 €
Now 25,50 €

adidas Men's Fall/Winter Roland Garros Warm-Up
SRP 129,99 €
Now 50,00 €

adidas Men's Fall/Winter Barricade Bermuda Short
SRP 45,00 €
Now 22,50 €

adidas Men's Fall/Winter Barricade Short
SRP 50,00 €
Now 16,50 €

adidas Men's Fall/Winter adizero Jacket
SRP 85,00 €
Now 39,90 €

adidas Men's Fall/Winter adizero Bermuda Short
SRP 50,00 €
Now 18,50 €

adidas Men's Fall/Winter adizero Tsonga Theme Polo
SRP 55,00 €
Now 21,50 €

adidas Men's Olympic Games 2012 France Polo
SRP 55,00 €
Now 25,50 €

adidas Men's Team Bermuda Short
SRP 33,00 €
Now 22,50 €

adidas Men's Roland Garros 2012 Ace Polo
SRP 45,00 €
Now 22,50 €

adidas Men's Roland Garros 2012 Ace Bermuda Short
SRP 42,00 €
Now 24,50 €

adidas Men's Roland Garros 2012 Jacket
SRP 80,00 €
Now 40,50 €

adidas Men's Spring/Summer Response Theme Polo
SRP 40,00 €
Now 17,50 €

adidas Men's Spring/Summer adizero Crew
SRP 45,00 €
Now 19,50 €

adidas Men's Spring/Summer adizero Verdasco Crew
SRP 50,00 €
Now 22,50 €

adidas Men's Spring/Summer adizero Polo
SRP 55,00 €
Now 21,50 €

adidas Men's adiZero Performance Crew
SRP 42,00 €
Now 22,50 €

adidas Men's Spring/Summer adizero Bermuda Short
SRP 50,00 €
Now 17,50 €

adidas Men's Spring/Summer Barricade Polo
SRP 55,00 €
Now 22,50 €

adidas Men's Fall/Winter adizero Feather Short
SRP 42,00 €
Now 25,50 €

adidas Men's Fall/Winter Barricade Murray Short
SRP 45,00 €
Now 19,50 €

adidas Men's Fall/Winter Barricade Bermuda Short
SRP 42,00 €
Now 17,50 €
Check out all adidas Men's Apparel