| | | |
| --- | --- | --- |
| Nike Men's Spring RF Smash Jacket | Price: | |
Clean design is highlighted with sharp details in the RF Smash Jacket. This midweight woven jacket features knit insets at underarms and sleeve for greater mobility, self-fabric collar with knit lining, full-zip entry with zipper garage, die-cut grommets at underarms for ventilation, tonal taping on body, zippered side pockets, open cuffs with knit insert, adjustable bungee at hem, embroidered RF monogram at right shoulder, and an embroidered Swoosh on left chest.
Content: Body: 95% Polyetser, 5% Spandex dobby. Panels: Dri-Fit 92% Polyester, 8% Spandex plain jersey. Binding: 100% Nylon plain warp knit.
Colors: Cargo Khaki w/Black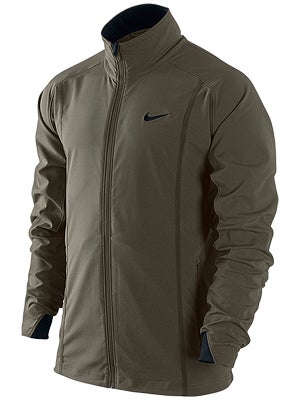 Rollover product image for a larger view.
Other items in Nike Men's Sale Apparel

Nike Men's Spring RF Australian Open Polo
SRP 69,95 €
Now 47,51 €

Nike Men's Spring RF Hybrid Jacket
SRP 99,95 €
Now 66,90 €

Nike Men's Spring Rafa Jacket
SRP 99,95 €
Now 66,90 €

Nike Men's Atomic Rafa Jacket
SRP 99,95 €
Now 66,90 €

Nike Men's Atomic RF Hybrid Jacket
SRP 99,95 €
Now 66,90 €

Nike Men's Pro Core Compression 6" Short
SRP 32,95 €
Now 24,50 €

Nike Men's Pro Core Compression 9" Short
SRP 39,95 €
Now 27,50 €

Nike Men's Pro Core Compression Mock Long-Sleeve Top
SRP 37,95 €
Now 25,50 €

Nike Men's Pro Core Compression Tight Pants
SRP 44,95 €
Now 27,91 €

Nike Men's Pro Core Compression Long-Sleeve Top
SRP 37,95 €
Now 25,50 €

Nike Men's Pro Core Tight Crew
SRP 32,95 €
Now 22,50 €

Nike Men's Pro Core Sleeveless Tight Top
SRP 29,95 €
Now 19,50 €

Nike Men's Spring RF Twill Waist Short
SRP 49,95 €
Now 32,50 €

Nike Men's Basic NET Cotton Pique Polo
SRP 39,95 €
Now 26,50 €

Nike Men's Basic NET 7" Woven Short
SRP 34,95 €
Now 24,50 €

Nike Men's Spring 10' Twill Takedown Short
SRP 44,95 €
Now 30,90 €

Nike Men's Atomic Rafa T-Shirt
SRP 34,95 €
Now 21,90 €

Nike Men's Spring Rafa T-Shirt
SRP 34,95 €
Now 21,90 €

Nike Men's Spring Rafa Stretch Woven Short
SRP 49,95 €
Now 34,90 €

Nike Men's Spring Stripe Cotton Dri-Fit Pique Polo
SRP 44,95 €
Now 30,90 €

Nike Men's Spring Cotton Stripe Jersey Polo
SRP 49,95 €
Now 34,50 €

Nike Men's Spring Sphere Stripe Polo
SRP 54,95 €
Now 37,90 €

Nike Men's Spring Graphic UV Polo
SRP 54,95 €
Now 37,90 €

Nike Men's Spring V-Neck Crew
SRP 39,95 €
Now 27,91 €

Nike Men's Spring UV Polo
SRP 49,95 €
Now 34,90 €

Nike Men's Spring Australian Open Takedown Polo
SRP 54,95 €
Now 37,50 €

Nike Men's Atomic Cotton Dri-Fit Pique Polo
SRP 39,95 €
Now 27,91 €

Nike Men's Atomic UV Graphic Crew
SRP 49,95 €
Now 34,90 €

Nike Men's Spring UV Graphic Crew
SRP 49,95 €
Now 34,90 €

Nike Men's Atomic UV Crew
SRP 44,95 €
Now 30,90 €

Nike Men's Atomic 10" Twill Takedown Short
SRP 44,95 €
Now 30,90 €

Nike Men's Spring 9 Knit Short
SRP 34,95 €
Now 23,89 €

Nike Men's Spring Just Do It T-Shirt
SRP 24,95 €
Now 16,90 €

Nike Men's Spring 7 Woven Short
SRP 34,95 €
Now 23,89 €

Nike Men's Spring 9 Woven Short
SRP 34,95 €
Now 23,50 €

Nike Men's Spring NET 11 Woven Short
SRP 34,95 €
Now 23,89 €

Nike Men's Spring 2 in 1 Short
SRP 54,95 €
Now 37,50 €

Nike Men's Spring Gladiator 10' Plaid Woven Short
SRP 44,95 €
Now 29,50 €

Nike Men's Atomic 10' Plaid Woven Short
SRP 44,95 €
Now 29,50 €

Nike Men's Atomic Half-Zip Long-Sleeve Top
SRP 64,95 €
Now 44,51 €

Nike Men's Spring Woven Vest
SRP 69,95 €
Now 48,50 €

Nike Men's Spring Half-Zip Long-Sleeve Top
SRP 64,95 €
Now 44,90 €

Nike Men's Basic Element Half-Zip Long-Sleeve Top
SRP 49,95 €
Now 34,90 €

Nike Men's Spring Sweater
SRP 64,95 €
Now 44,90 €

Nike Men's Spring Sphere Full Zip Hoody
SRP 79,95 €
Now 55,91 €

Nike Men's Spring Fleece Cuffed Pant
SRP 39,95 €
Now 27,91 €

Nike Men's Holiday Squad Fleece Pant
SRP 39,95 €
Now 27,91 €

Nike Men's Spring Woven Sphere Lined Warm-Up
SRP 129,95 €
Now 90,90 €

Nike Men's Spring Woven Warm-Up
SRP 109,95 €
Now 76,90 €

Nike Men's Holiday Rafa Power Court Short
SRP 54,95 €
Now 37,50 €

Nike Men's Rafa N98 Power Court Jacket
SRP 99,95 €
Now 67,50 €

Nike Men's RF Holiday Hard Court V-Neck T-Shirt
SRP 34,95 €
Now 23,50 €

Nike Men's Holiday RF Hard Court Twill Short
SRP 49,95 €
Now 34,50 €

Nike Men's Holiday RF Hard Court Woven Jacket
SRP 109,95 €
Now 65,50 €

Nike Men Holiday Showdown Net 10 Plaid Woven Short
SRP 44,95 €
Now 29,50 €

Nike Men's Holiday Showdown NET Woven 9" Short
SRP 34,95 €
Now 24,50 €

Nike Men's Showdown 10" Woven Short White
SRP 44,95 €
Now 31,50 €

Nike Men's Holiday Showdown Long-Sleeve Polo
SRP 59,95 €
Now 37,50 €

Nike Men's Holiday Long-Sleeve 1/2 Zip Top
SRP 69,95 €
Now 41,90 €

Nike Men's Holiday Hyperply Warm-Up
SRP 119,95 €
Now 79,50 €

Nike Men's Basic NET Woven Warm-Up
SRP 109,95 €
Now 49,50 €

Nike Men's Basic 12" Woven Cargo Short
SRP 49,95 €
Now 29,50 €

Nike Men's Basic Miler UV Long-Sleeve Top
SRP 34,95 €
Now 25,50 €

Nike Men's Basic 9" Woven Short
SRP 34,95 €
Now 23,50 €

Nike Men's Holiday Match NET Woven 9" Short
SRP 34,95 €
Now 23,50 €

Nike Men's Holiday Match NET 7" Woven Short
SRP 29,90 €
Now 20,50 €

Nike Men's Basic NET UV Polo
SRP 44,95 €
Now 30,50 €

Nike Men's Holiday JDI Lines T-Shirt
SRP 29,95 €
Now 20,50 €

Nike Men's Holiday Match Hyperply Warm-Up
SRP 119,95 €
Now 80,50 €

Nike Men's Holiday Net 10 Plaid Match Short
SRP 44,95 €
Now 29,50 €

Nike Men's Holiday LS Sweater
SRP 79,95 €
Now 48,50 €

Nike Men's Holiday 10 Stretch Match Woven Short
SRP 44,95 €
Now 31,50 €

Nike Men's Holiday Hard Court Pull On Short
SRP 39,95 €
Now 27,50 €

Nike Men's Autumn Rafa US Open Power Court Crew
SRP 64,95 €
Now 39,50 €

Nike Men's Fall Rafa Power Court Short
SRP 54,95 €
Now 34,50 €

Nike Men's Fall RF Hard Court Twill Short
SRP 49,95 €
Now 29,50 €

Nike Men's Fall RF Hard Court T-Shirt
SRP 34,95 €
Now 22,50 €

Nike Men's Fall Rafa Power Court Crew
SRP 64,95 €
Now 39,50 €

Nike Men's Fall Statement Graphic Crew
SRP 54,95 €
Now 34,50 €

Nike Men's Fall Sphere Stripe Polo
SRP 54,95 €
Now 34,50 €

Nike Men's Autumn Stripe Jersey Polo
SRP 49,95 €
Now 29,50 €

Nike Men's Fall Advantage NET UV Polo
SRP 44,95 €
Now 29,50 €

Nike Men's Fall Stripe Jersey Polo
SRP 49,95 €
Now 29,50 €

Nike Men's Fall Longsleeve Stripe Polo
SRP 59,95 €
Now 39,50 €

Nike Men's Autumn Sphere Stripe Polo
SRP 54,95 €
Now 34,50 €

Nike Men's Fall Hard Court Pull On Short
SRP 39,95 €
Now 25,50 €

Nike Men's Fall Match 10" Woven Short
SRP 44,95 €
Now 29,50 €

Nike Men's Fall NET 10" Plaid Short
SRP 44,95 €
Now 29,50 €

Nike Men's Basic NET 7" Woven Short
SRP 34,95 €
Now 24,50 €

Nike Men's Fall JDI Medal T-Shirt
SRP 24,95 €
Now 17,50 €

Nike Men's Fall Seasonal Woven Warm-Up
SRP 129,95 €
Now 90,50 €

Nike Men's Summer London Rafa Finals Lawn Crew
SRP 64,95 €
Now 38,50 €

Nike Men's Summer London Rafa Finals N98 Jacket
SRP 99,95 €
Now 58,50 €

Nike Men's Summer RF Smash Woven Short
SRP 49,95 €
Now 28,50 €

Nike Men's Summer Rafa Finals Short
SRP 54,95 €
Now 22,50 €

Nike Men's Summer London RF Jacket
SRP 109,95 €
Now 64,50 €

Nike Men's Summer London Advantage Tread Crew
SRP 39,95 €
Now 22,50 €

Nike Men's Summer Match Statement UV Crew
SRP 49,95 €
Now 28,50 €

Nike Men's Summer Match Statement Stripe UV Polo
SRP 54,95 €
Now 30,00 €

Nike Men's Summer Match Stripe Sphere Polo
SRP 54,95 €
Now 31,50 €

Nike Men's Basic Match Woven Short
SRP 39,95 €
Now 23,50 €

Nike Men's Summer Match Woven Short
SRP 39,95 €
Now 23,50 €

Nike Men's Summer Advantage Woven Short
SRP 44,95 €
Now 26,50 €

Nike Men's Summer Advantage Stripe Cotton Polo
SRP 59,95 €
Now 34,50 €

Nike Men's Summer Advantage Tread Graphic Crew
SRP 49,95 €
Now 29,50 €

Nike Men's Summer Rafa Finals Clay Crew
SRP 64,95 €
Now 38,50 €

Nike Men's Summer Rafa Finals N98 Print Jacket
SRP 99,95 €
Now 59,50 €

Nike Men's Spring Advantage Woven Short
SRP 44,95 €
Now 26,50 €

Nike Men's Spring Advantage Dri-Fit Stripe Polo
SRP 59,95 €
Now 34,50 €

Nike Men's Spring Advantage Geometric Polo
SRP 54,95 €
Now 31,50 €

Nike Men's Spring Rafa Finals Short
SRP 54,95 €
Now 31,50 €

Nike Men's Spring Match Woven Short
SRP 39,95 €
Now 22,50 €

Nike Men's Spring Match Stripe UV Polo
SRP 54,95 €
Now 32,50 €

Nike Men's Spring RF Smash Jacket
SRP 109,95 €
Now 62,50 €

Nike Men's Spring RF Trophy Woven Short
SRP 49,95 €
Now 29,50 €

Nike Men's Winter RF Trophy Woven Taped Short
SRP 44,95 €
Now 19,50 €

Nike Men's Fall Rafa Ace Lawn Crew
SRP 59,95 €
Now 28,50 €

Nike Men's Fall Rafa Ace T-Shirt
SRP 29,95 €
Now 14,51 €

Nike Men's Fall Challenger Woven Short
SRP 39,95 €
Now 19,50 €

Nike Men's Fall RF Trophy Woven Taped Short
SRP 44,95 €
Now 19,50 €

Nike Men's Summer Trophy Federer Woven Short
SRP 44,95 €
Now 19,50 €

Nike Men's Basic Challenger Woven Short
SRP 39,95 €
Now 19,50 €