| | | |
| --- | --- | --- |
| K-Swiss Ultrascendor II White/Navy Men's Shoes | Price: | |
This update to the ever popular Ultrascendor gets a slightly lower profile and loses a little bit of weight in the process. The lightweight of the shoe is achieved through a skeletized two-piece outsole that has exposed EVA material. The familiar comfort of KSwiss is noticeable as soon as the Ultrascendor II is slipped onto the foot. There's no break-in needed, and players looking for comfort and lightweight will find it here.
Fit: Length fits true to size. Width is medium. Arch support is medium. No break-in required.
Upper: Mix of natural leather and synthetic leather with perforations and mesh through the tongue. Durawrap on the toe cap for added durability. K-EVA, a special formula EVA, provides maximized cushioning and enhance durability of the midsole
Outsole: Aosta II rubber non-marking outsole in a multi-surface wavebone tread pattern
Weight: 383g. (size US 10.5)
Color: White / Navy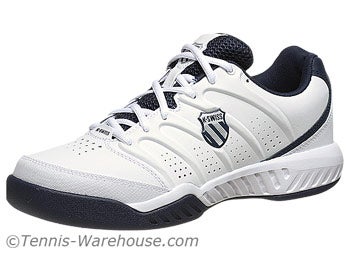 Rollover product image for a larger view.
Please select the newsletters below that you would like to receive.
K-Swiss Men's shoes

K-Swiss BigShot II Black/Red Men's Shoes
125,90 €

K-Swiss BigShot II Wh/Black/Blue Men's Shoes
118,91 €

K-Swiss BigShot Light Wh/Black/Blue Men's Shoes
74,90 €

K-Swiss BigShot LTH Wh/Navy/Red Men's Shoes
SRP 119,95 €
Now 77,00 €

K-Swiss Defier DS 7.0 Men's Shoes White/Grey/Navy
SRP 129,95 €
Now 89,95 €

K-Swiss Calabasas White/Red Men's Shoes
58,91 €

K-Swiss Accomplish LS Carpet White/Navy Men's Shoe
84,00 €

K-Swiss Ultrascendor II Carpet Wh/Navy Men's Shoes
SRP 79,95 €
Now 44,01 €

K-Swiss Ultrascendor II White/Navy Men's Shoes
SRP 79,95 €
Now 49,00 €

K-Swiss Bigshot Outdoor Men's Shoes Black/Blue
SRP 139,95 €
Now 79,00 €

K-Swiss Ultrascendor Mid Men's Shoes Wh/Ny
104,90 €
| | |
| --- | --- |
| Related Categories | Similar/Competing Products |
| | |