| | | |
| --- | --- | --- |
| Babolat Women's Club Skort | Price: | |
Move with ease and bring a fresh style to the court in the Babolat Club Skort. It features a flat elastic waistband with contrast piping, built-in short with ball pocket, Babolat stripes on back hem, and Babolat logo at left hem and back waist. 33 cm skort length (size M.)

360 Motion is designed to optimize the complex movements: no seams, a "bio-technical" cut that moves with the player.

Fiber Dry microfibers allows for the most intense wear and tear from practice to competition.
Content: Body: 92% Polyester, 8% Spandex. Mesh: 100% Polyester.
Color:

Black w/White
Blue w/White
White w/Black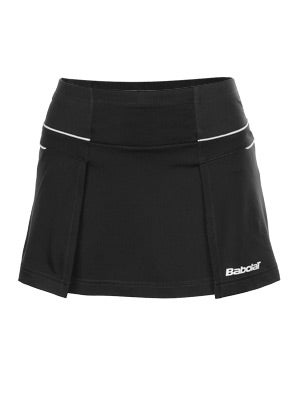 Rollover product image for a larger view.
Other items in Babolat Team Group

Babolat Women's Club Tank
33,90 €

Babolat Women's Club Top
33,90 €

Babolat Women's Club Skort
30,90 €

Babolat Women's Club Short
30,90 €

Babolat Women's Club Warm-Up Jacket
38,79 €

Babolat Women's Club Warm-Up Pant
39,90 €

Babolat Women's Club Parka Jacket
89,91 €

Babolat Women's 2013 Performance Dress
39,90 €

Babolat Women's 2013 Performance Tank
39,90 €

Babolat Women's 2013 Performance Skort
35,90 €

Babolat Women's 2013 Performance Short
35,90 €

Babolat Women's 2013 Performance Wind Jacket
57,91 €

Babolat Women's 2013 Performance 3/4 Pant
44,90 €

Babolat Women's Club Tank
SRP 34,95 €
Now 17,50 €

Babolat Women's Club Skort
SRP 34,95 €
Now 18,50 €

Babolat Women's Club Short
SRP 34,95 €
Now 18,50 €

Babolat Women's Club Warm-Up Jacket
SRP 49,95 €
Now 25,50 €

Babolat Women's Club Warm-Up Pant
SRP 39,95 €
Now 19,50 €

Babolat Women's Trend Club Skort
SRP 34,95 €
Now 15,51 €

Babolat Women's Trend Club Warm-Up Jacket
SRP 49,95 €
Now 19,50 €

Babolat Women's Warm-Up Club Pant
SRP 39,95 €
Now 14,51 €
Check out all Babolat Women's Apparel
Other items in Babolat Sale Apparel

Babolat Women's Performance Shorty
SRP 19,95 €
Now 14,51 €

Babolat Women's 2012 Performance Warm-Up Jacket
SRP 59,95 €
Now 41,49 €

Babolat Women's 2012 Performance Wind Jacket
SRP 64,95 €
Now 44,51 €

Babolat Women's 2012 Performance Polo
SRP 39,95 €
Now 29,50 €

Babolat Women's 2012 Performance Skort
SRP 39,95 €
Now 29,50 €

Babolat Women's 2012 Performance 3/4 Pant
SRP 49,95 €
Now 39,50 €

Babolat Women's Performance Shorty
SRP 19,95 €
Now 14,51 €

Babolat Women's Club Tank
SRP 34,95 €
Now 17,50 €

Babolat Women's Club Skort
SRP 34,95 €
Now 18,50 €

Babolat Women's Club Short
SRP 34,95 €
Now 18,50 €

Babolat Women's Club Warm-Up Jacket
SRP 49,95 €
Now 25,50 €

Babolat Women's Club Warm-Up Pant
SRP 39,95 €
Now 19,50 €

Babolat Women's Trend Club Skort
SRP 34,95 €
Now 15,51 €

Babolat Women's Trend Club Warm-Up Jacket
SRP 49,95 €
Now 19,50 €

Babolat Women's Warm-Up Club Pant
SRP 39,95 €
Now 14,51 €

Babolat Women's 2011 Performance Tank
SRP 39,95 €
Now 19,50 €

Babolat Women's 2011 Performance Skort
SRP 39,95 €
Now 19,50 €

Babolat Women's 2011 Performance Warm-Up Pant
SRP 49,95 €
Now 21,50 €
Check out all Babolat Women's Apparel