| | | |
| --- | --- | --- |
| Fila Women's Spring Center Court Cap-Sleeve | Price: | |
Get plenty of style and added coverage from this Fila top. It provides SPF 30 protection and features a contrast V-neck and side panels as well as tonal mesh stripes on shoulders. Embroidered F- box is on left hem.
Content: Body: 88% Polyester, 12% Spandex. Insets: 94% Polyester, 6% Spandex.
Colors:

Black w/Apple
Apple w/White
White w/Apple
Note: This top runs large, we suggest you order one size smaller than you would usually wear.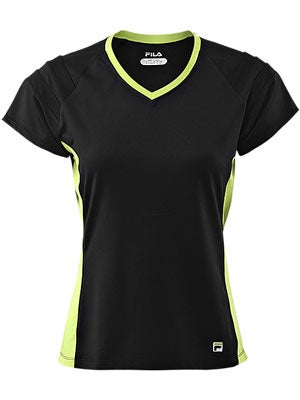 Rollover product image for a larger view.
Other items in Fila Sale Apparel

Fila Women's Winter Collezione Dress
SRP 60,00 €
Now 41,49 €

Fila Women's Winter Collezione Halter Dress
SRP 60,00 €
Now 41,49 €

Fila Women's Winter Collezione V-Neck Tank
SRP 40,00 €
Now 27,50 €

Fila Women's Winter Collezione Cap Sleeve
SRP 40,00 €
Now 27,50 €

Fila Women's Winter Collezione Flirty Skort
SRP 40,00 €
Now 27,50 €

Fila Women's Winter Collezione Jacket
SRP 75,00 €
Now 49,50 €

Fila Women's '12 Spring Cotton Borg Jacket
SRP 60,00 €
Now 41,49 €

Fila Women's Fall Center Court Dress
SRP 55,00 €
Now 37,50 €

Fila Women's Fall Center Court Racer Tank
SRP 45,00 €
Now 31,50 €

Fila Women's Fall Center Court Cap-Sleeve
SRP 50,00 €
Now 33,50 €

Fila Women's Fall Center Court Skort
SRP 50,00 €
Now 34,50 €

Fila Women's Fall Baseline Warm Up Jacket
SRP 60,00 €
Now 41,49 €

Fila Women's Fall Baseline Warm Up Pant
SRP 47,00 €
Now 32,50 €

Fila Women's Fall Baseline Front Zip Dress
SRP 65,00 €
Now 44,51 €

Fila Women's Fall Baseline Strappy Back Tank
SRP 38,00 €
Now 25,50 €

Fila Women's Fall Baseline Cap Sleeve Top
SRP 40,00 €
Now 27,50 €

Fila Women's Fall Heritage Full Coverage Tank
SRP 40,00 €
Now 19,50 €

Fila Women's Fall Heritage Cap Sleeve Top
SRP 40,00 €
Now 19,50 €

Fila Women's Fall Heritage Jacket
SRP 70,00 €
Now 35,50 €

Fila Women's Essenza Racer Tank
SRP 48,00 €
Now 18,50 €

Fila Women's Spring Heritage Racer Tank
SRP 60,00 €
Now 24,50 €

Fila Women's Spring Heritage Cap-Sleeve
SRP 58,00 €
Now 22,50 €

Fila Women's Vintage Polo
SRP 50,00 €
Now 18,50 €

Fila Women's Essenza Ruffle Skort
SRP 44,00 €
Now 18,50 €

Fila Women's Spring Center Court Dress
SRP 50,00 €
Now 21,50 €

Fila Women's Spring Center Court Racer Tank
SRP 45,00 €
Now 22,50 €

Fila Women's Spring Center Court Sleeveless Tank
SRP 40,00 €
Now 22,50 €

Fila Women's Spring Center Court Cap-Sleeve
SRP 45,00 €
Now 24,50 €
Check out all Fila Women's Apparel