| | | |
| --- | --- | --- |
| Nike Women's Spring Crush Border Skort | Price: | |
Play with confidence in a skort that performs as you do. This player favorite has a wide elastic waistband offers comfort and modern style. Skort also features built-in compression shorts, while side slits will provide ample range of motion. Contrast border adds flair to this classic tennis essential. Tennis court logo sewn into right hip, and Swoosh embroidered at left hem. 13" skort length.
Content: Dri-Fit 87% Polyester, 13% Spandex. Shorts: 92% Polyester, 8% Spandex jersey
Colors:

Tide Pool Blue w/Turquoise Blue
Melon Crush w/Storm Pink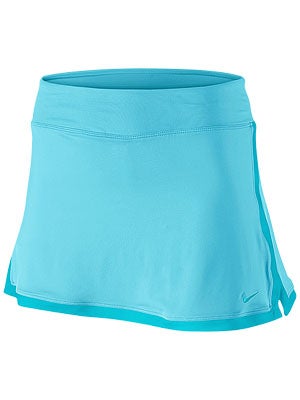 Rollover product image for a larger view.
Other items in Nike Women's Sale Apparel

Nike Women's Spring Maria Australian Open Dress
SRP 119,95 €
Now 78,50 €

Nike Women's Spring Maria Indian Wells Dress
SRP 119,95 €
Now 78,50 €

Nike Women's Spring Force Flouncy Power Dress
SRP 69,95 €
Now 46,51 €

Nike Women's Spring Force Wide Strap Tank
SRP 44,95 €
Now 29,50 €

Nike Women's Spring Force Printed Tank
SRP 49,95 €
Now 34,50 €

Nike Women's Spring Force New Power Tank
SRP 34,95 €
Now 23,89 €

Nike Women's Spring Force Power Top
SRP 34,95 €
Now 23,89 €

Nike Women's Spring Force Printed Top
SRP 44,95 €
Now 30,90 €

Nike Women's Spring Force Sphere Polo
SRP 39,95 €
Now 27,91 €

Nike Women's Spring Force Just Do It Top
SRP 29,95 €
Now 20,90 €

Nike Women's Spring Force Woven Skort
SRP 49,95 €
Now 33,50 €

Nike Women's Spring Force Knit Skort
SRP 44,95 €
Now 29,50 €

Nike Women's Spring Force Unlined Woven Skirt
SRP 34,95 €
Now 23,50 €

Nike Women's Spring Force Woven Short
SRP 29,95 €
Now 20,90 €

Nike Women's Basic Compression Bra
SRP 34,95 €
Now 24,50 €

Nike Women's Spring Force Solid Ball Shorty
SRP 19,95 €
Now 13,90 €

Nike Women's Spring Force Just Do It T-Shirt
SRP 24,95 €
Now 16,90 €

Nike Women's Spring Force Knit Jacket
SRP 74,95 €
Now 51,90 €

Nike Women's Spring Electric Serena OZ Dress
SRP 89,95 €
Now 62,90 €

Nike Women's Spring Electric Power Dress
SRP 69,95 €
Now 48,90 €

Nike Women's Basic Border Dress
SRP 69,95 €
Now 41,49 €

Nike Women's Basic Border Tank
SRP 34,95 €
Now 20,50 €

Nike Women's Basic Border Top
SRP 39,95 €
Now 21,50 €

Nike Women's Basic Border Polo
SRP 44,95 €
Now 27,50 €

Nike Women's Basic Border Skort
SRP 44,95 €
Now 23,50 €

Nike Women's Basic Border Woven Jacket
SRP 59,95 €
Now 38,50 €

Nike Women's Basic Border Woven Pant
SRP 49,95 €
Now 33,50 €

Nike Women's Spring Electric Indy Racerback Bra
SRP 24,95 €
Now 16,90 €

Nike Women's Spring Electric Pro Printed Bra
SRP 34,95 €
Now 23,89 €

Nike Women's Spring Electric Wide Strap Tank
SRP 44,95 €
Now 30,90 €

Nike Women's Spring Electric Knit Tank
SRP 44,95 €
Now 29,50 €

Nike Women's Spring Electric Printed Tank
SRP 49,95 €
Now 32,50 €

Nike Women's Spring Electric New Power Tank
SRP 34,95 €
Now 23,89 €

Nike Women's Spring Electric Printed Top
SRP 44,95 €
Now 28,50 €

Nike Women's Spring Electric Pure Top
SRP 39,95 €
Now 27,91 €

Nike Women's Spring Electric Just Do It Top
SRP 29,95 €
Now 20,90 €

Nike Women's Spring Electric Poly Polo
SRP 49,95 €
Now 34,90 €

Nike Women's Spring Electric Jacquard Polo
SRP 44,95 €
Now 30,90 €

Nike Women's Spring Electric Sphere Polo
SRP 39,95 €
Now 27,91 €

Nike Women's Spring Electric Power Skort
SRP 39,95 €
Now 27,91 €

Nike Women's Spring Electric Knit Skort
SRP 44,95 €
Now 29,50 €

Nike Women's Spring Electric Woven Skort
SRP 49,95 €
Now 33,50 €

Nike Women's Spring Electric Unlined Woven Skirt
SRP 34,95 €
Now 23,50 €

Nike Women Spring Electric Long-Sleeve 1/2 Zip Top
SRP 64,95 €
Now 43,51 €

Nike Women's Spring Dri-Fit Empire Jacket
SRP 59,95 €
Now 35,50 €

Nike Women's Spring Electric Knit Pant
SRP 64,95 €
Now 35,50 €

Nike Women's Spring Electric New Power Jacket
SRP 59,95 €
Now 31,50 €

Nike Women's Spring Electric New Power Pant
SRP 49,95 €
Now 29,50 €

Nike Women's Spring Electric Rally Solid Hoody
SRP 54,95 €
Now 31,50 €

Nike Women's Pro Long-Sleeve Mock Top
SRP 54,95 €
Now 37,50 €

Nike Women's Pro Hyperwarm Long Tight
SRP 54,95 €
Now 37,50 €

Nike Women's Winter Maria Back Court Skort
SRP 54,95 €
Now 33,50 €

Nike Women's Holiday Maria Back Court Tank
SRP 54,95 €
Now 33,50 €

Nike Women's Holiday Maria Back Court Skort
SRP 54,95 €
Now 33,50 €

Nike Women's Holiday Serena Statement Tank
SRP 49,95 €
Now 33,50 €

Nike Women's Holiday Serena Statement Woven Skort
SRP 49,95 €
Now 33,50 €

Nike Women's Holiday SS Jersey Top
SRP 49,95 €
Now 34,50 €

Nike Women's Winter Ruffled Skort
SRP 49,95 €
Now 29,50 €

Nike Women's Holiday Graphic Cotton Polo
SRP 44,95 €
Now 24,50 €

Nike Women's Winter Pure Top
SRP 44,95 €
Now 31,50 €

Nike Women's Basic SS Jersey Top
SRP 49,95 €
Now 30,50 €

Nike Women's Holiday Border Skort
SRP 44,95 €
Now 27,50 €

Nike Women's Holiday Flounce Knit Skort
SRP 49,95 €
Now 29,50 €

Nike Women's Holiday Caught You Lookin T-Shirt
SRP 24,95 €
Now 17,50 €

Nike Women's Holiday Knit Sweater
SRP 69,95 €
Now 38,90 €

Nike Women's Holiday Woven Jacket
SRP 74,95 €
Now 46,51 €

Nike Women's Holiday Regular Cotton Pant
SRP 44,95 €
Now 24,50 €

Nike Women's Holiday Woven Pant
SRP 64,95 €
Now 35,50 €

Nike Women's Basic Border Woven Short
SRP 44,95 €
Now 19,50 €

Nike Women's Spring Maria Statement Slam Dress
SRP 119,95 €
Now 49,50 €

Nike Women's Summer London Tie Breaker Dress
SRP 79,95 €
Now 39,50 €

Nike Women's Fall Maria Back Court Night Dress
SRP 119,95 €
Now 59,91 €

Nike Women's Autumn Cotton Graphic Knit Tank
SRP 39,95 €
Now 15,51 €

Nike Women's Autumn Pleated Knit Skort
SRP 49,95 €
Now 19,50 €

Nike Women's Autumn Flounce Knit Skort
SRP 49,95 €
Now 19,50 €

Nike Women's Fall Fireberry Border Skort
SRP 44,95 €
Now 17,50 €

Nike Women's Fall Athlete Strappy Tank
SRP 49,95 €
Now 18,50 €

Nike Women's Summer Pop Baseline UV Polo
SRP 49,95 €
Now 18,50 €

Nike Wom's Summer London Tropical Tie Breaker Tank
SRP 44,95 €
Now 18,50 €

Nike Women's Summer Tropical Tie Breaker Tank
SRP 44,95 €
Now 19,50 €

Nike Women's Summer Tropical Border Skort
SRP 44,95 €
Now 23,50 €

Nike Women's Summer Tropical Baseline Skort
SRP 44,95 €
Now 23,50 €

Nike Women's Summer Maria Statement Set Tank
SRP 49,95 €
Now 19,50 €

Nike Women's Summer Maria Statement Set Skort
SRP 54,95 €
Now 19,50 €

Nike Women's Summer Fruit Border Skort
SRP 44,95 €
Now 19,50 €

Nike Women's Summer Fruit Tie Breaker Skort
SRP 49,95 €
Now 18,50 €

Nike Women's Summer Fruit Power Knit Skort
SRP 39,95 €
Now 17,50 €

Nike Women's Spring Pure Tie-Break Graphic Tank
SRP 44,95 €
Now 14,51 €

Nike Women's Spring Pure Tie-Break Woven Skort
SRP 49,95 €
Now 18,50 €

Nike Women's Spring Crush Border Skort
SRP 44,95 €
Now 17,50 €

Nike Women's Spring Crush Tie-Break Woven Skort
SRP 49,95 €
Now 15,51 €

Nike Women's Pro Holiday Long-Sleeve Mock Top
SRP 54,95 €
Now 29,50 €