| | | |
| --- | --- | --- |
| K-Swiss Uproar IV Classic Women's Shoes Wh/Bk | Price: | |
For players looking for comfort and stability, KSwiss achieves this with the Uproar IV. The upper is constructed with full grain and synthetic leather with perforations for breathability. The midsole offers comfort with K-EVA cushioning, and impact protection with Shockspring in the heel. The full herringbone tread pattern in an Aosta II rubber offers excellent traction for clay courts.
Fit: Length fits true to size. Width is medium and lower than medium arch. No break-in period required.
Upper: Full grain and synthetic leather.
Midsole: K-EVA for cushioning and comfort and Shockspring heel for impact protection.
Outsole: Aosta II rubber compound in a full herringbone tread pattern offers excellent traction on clay courts.
Weight: 289 grams (size US 8.5)
Color: White / Black / Silver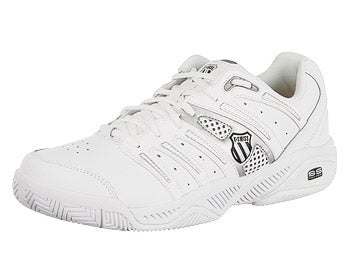 Rollover product image for a larger view.
Please select the newsletters below that you would like to receive.
K-Swiss Women's Shoes

K-Swiss BigShot II White/Grey Women's Shoes
118,91 €

K-Swiss BigShot Light Wh/Magenta Women's Shoes
74,90 €

K-Swiss BigShot LTH White/Silver Women's Shoes
SRP 139,95 €
Now 77,00 €

K-Swiss Calabasas White/Magenta Women's Shoes
58,91 €

K-Swiss Approach II Carpet Wh/Sil Women's Shoes
SRP 94,95 €
Now 59,00 €

K-Swiss Ascendor Leather Wh/Gy/Gold Women's Shoes
SRP 119,95 €
Now 89,91 €

K-Swiss Receiver II Wom's Shoes White/Platinium
SRP 99,95 €
Now 35,00 €

K-Swiss Ultrascendor II Carpet Wh/Sil Women's Shoe
SRP 79,95 €
Now 49,00 €

K-Swiss Ultrascendor II White/Silver Women's Shoes
SRP 79,95 €
Now 49,00 €

K-Swiss Uproar IV Classic Women's Shoes Wh/Bk
SRP 79,95 €
Now 29,00 €

K-Swiss Approach II Leather Wom's Shoes Wh/Silver
SRP 99,95 €
Now 69,00 €
| | |
| --- | --- |
| Related Categories | Similar/Competing Products |
| | |